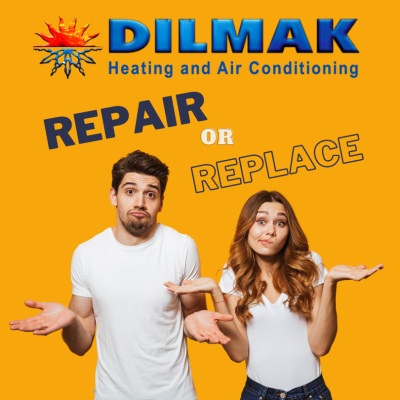 Is That Air Conditioner or Furnace Repair Worth It? | Signs You Need a New HVAC System
According to Energy Star – a U.S Environmental Protection Agency voluntary program, most modern HVAC systems or air conditioners are built to last an average of 15 years, completely dependent on make & model, as well as your climate, how often you run the system, and how often your air conditioner is maintained. Your air conditioner is something most of us take for granted, and never really give any consideration to until it breaks down & leaves us vulnerable to the elements. When this happens, you'll rush to find an HVAC company to come to your home, and hope they provide a quick & easy fix. However, sometimes these "quick & easy fixes" can't actually be completed easily, quickly, or even cheaply.
When this happens, you have a pretty big decision to make: repair or replace your existing air conditioner system? How can you know what the best decision is for you, your home, & your wallet?
We're going to guide you through this decision to help you determine whether it is in your best interest to repair your air conditioner or replace it. 
Have You Regularly Maintained Your HVAC System?
Regular maintenance of your HVAC system in both cooling & heating seasons (typically the fall + spring) both ensures that your system operates efficiently for the upcoming season, and catches any minor problems with your air conditioner or heater, before they become major expenses.  You wouldn't drive your car for a whole year without a service check or oil change so why should your HVAC system run for a year without also being inspected? Regular maintenance of your air conditioner also ensures that your manufacturer & dealer warranties stay in effect, so that major repairs are less likely to come out of your pocket.
Have You Previously Repaired Your HVAC System?
Remember, just like a car, pouring money into a failing system is often more costly than outright buying a new one. Chances are, if you find yourself having to call out an HVAC tech every year because of broken parts or system not working properly, then you may be better off with buying a new system now. When you compare the cost of a repair, to the potential savings you would get with a new system by upgrading to a more energy efficient one, you may see that you'll actually save money each year through the energy savings, vs. what you would be spending on repairs.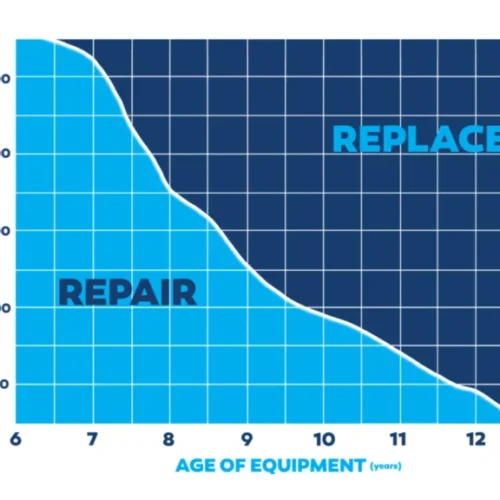 How Long Do Air Conditioner Parts Last?
While a typical air conditioning system may last for at least 15 years or more, the individual parts or components that make up the system will wear out at much faster rates. To understand why parts needs to be serviced, repaired, or replaced, you need to know what components actually make an air conditioner.
The major components of an HVAC system are:
The Compressor
The air conditioner compressor acts as "the heart" of your HVAC system. It sits inside of the air conditioner and pumps the refrigerant to and from the heat exchanging parts, the indoor and outdoor coils.  It has both electrical and mechanical parts to it.  Compressors can last anywhere from 12 years to 20+ years.
The Evaporator
The evaporator or indoor coil may sit either on top of an indoor furnace or on the inside of an air handler. It will absorb the heat from your home and then send it on outside to the compressor. Most evaporator coils today are made of copper, aluminum, and steel. They may start to leak refrigerant as early as 12 years, but most times between 15 and 20 years.
The Condenser
The condenser/outdoor coil makes up the outer wall of the air conditioner, and is the most visible part of your air conditioning system. It serves to get rid of the heat that the evaporator absorbed inside your home. Condensers have a fairly low failure rate, and may have a longer average lifespan, depending on how your system was used & serviced. Locations on the coast that see high amounts of salt in the air will typically see condenser coils needing to be replaced in less than 10 years.
There are much smaller parts that also play a crucial role in making sure that your air conditioner runs efficiently & correctly. This can include capacitors, fan motors, line sets and refrigerant, just to name a few. While these parts may not be as expensive as major components to replace, they can still be costly & add up over time.
Should I Repair or Replace My Air Conditioner?
It's ultimately your decision whether you think outright replacing your HVAC system with a new one is worth the cost over repairing. A good HVAC technician will educate and inform you on your options, and will give you their opinion, but should never pressure you into buying a new system.
Next Steps
Whether you decide to repair, or replace your air conditioner, you should first give us a call, so that one of our experienced HVAC technicians can assess your situation and help you make a better decision.